Bel Canto SET 40
"I was very pleased with the help that Lawrence provided. Lawrence at Excel Stereo recently repaired a Bel Canto SET 40 amplifier for me. He also picked up the 95 lbs unit at my residence in downtown Toronto and delivered it, and set it up, after the repairs were finished. I recommend Lawrence highly for repair work. He diagnosed the problem accurately and gave me a range of cost options for the repair - and also suggested a couple of optional upgrades for me to consider. The amp sounded marvellous when I got it back. Lawrence is did a good job and he was professional and helpful throughout." ........ Customer from Toronto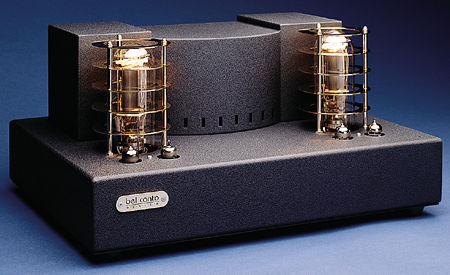 We repaired a few Bel Canto SET 40 amplifiers. Most customers came in sharing a similar problem: the amplifier was suddenly be blowing fuses one day upon turn on, despite having years of reliable service.
The SET40 is a well design amplifier with 2 x 845 tubes, and an output of approx. 40W. The idle current draw is greater than 500W, and the internal voltages are ran at a lethal 1300V.
A bench diagnostic quickly revealed that internal diodes had failed, taking out several other minor components with them. Due to the extremely high voltage requirement, the diodes have simply reached their age limit and failed on their own, without any design fault with the amplifier whatsoever. A replacement of all 8 internal diodes plus some minor components will fix the problem. All of the SET 40 which came in had the exact same problem, and the same solution fixed them all.
After the repair, the amplifier was burned in for 48 hours, and subsequent bench test revealed results which met factory specifications.
Due to the lethal voltages, we take extreme caution when repairing these amplifiers and we do not recommend anyone to attempt repairs on theirs own.
Total Cost of Repair: $ 260 dollars including parts and labor
Turnaround Time: 2 weeks, due to parts delay